Server capacity depleted – Speed throttled
Thanks for using anonymoX! We gladly provide a total server capacity of about 4000 TB/month for free. It is needed for the anonymization of websites, downloads and videos. Unfortunately, the server capacity is now at its limit.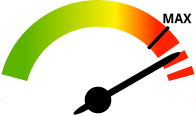 Therefore, we have to limit the speed to 50%. Only our Premium servers are not affected.
Frequently asked questions
How to proceed?
anonymoX Free
Limited Speed
Free of charge, Supported by ads
anonymoX Premium
Always guaranteed speed
20x faster than the free version
More servers, more countries, no ads